Chuck Henman - Biography
Smokin' Hot Drum Tracks for your Recordings!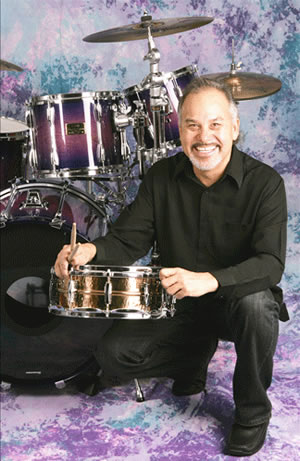 SUMMARY (Drumroll Please!)
Drummer/Instructor
(Jazz, Rock, Brazilian, Latin, Fusion & Country)
38 Years of professional experience,
Studied classical percussion, Big Band & Jazz Ensemble at Northern Arizona University 1980-1981
Studied Advanced Jazz Methods with Ronnie Bedford 1990-1991,
Studied with: Dom Moio 2004, Alan White 2005, and Mel Brown 2006.
Performed with:
Jeff Lorber (Jazz keyboard legend), Everett Harp (Jazz Sax) "Thumbs" Carlisle - Warren Hill - The New Family Stone - Kim Stone (Bass - Spyro Gyra & The Rippingtons) - Jill Sobule - Long John Hunter - Smokey Wilson - Bruce Conte (Guitar - Tower of Power) - Anchorage Civic Orchestra - Medicine Dream - Dina Preston - Doug Kershaw - Les Baxter - Amo Chip Dabney - Dan Tyack - Gabriel Mark Hasselbach.
Mile High Music Notes
"...Chuck Henman's energy on the drum kit filtered out throughout the venue as he was spot on providing the backbone. "
> Read the Full article of Jeff Lorber, Everett Harp with Chuck Henman
Recorded With:
Medicine Dream, H3, The Soul Searchers, John Damberg Quintet, Colleen Coadic, Lee Hudson, Andy Burnett, Javier Zapata, Stu Schulman, Joe Craig, Dennis Lind, Will Triplett & Undiscovered Country.
Opening Act for the following Recording Artists:
The Violent Femms, The Beach Boys, Three Dog Night, Ozark Mountain Daredevils, Tower of Power, Lover Boy, Great White, Walela, Ulali, Bill Miller, Robert Mirabal, Twisted Sister, Tom Grant, Tracy Lawrence, Adrian Belew & The Bears, Pam Tillis, Reba Mcintyre, John Michael Montgomery, Trace Adkins, Brooks & Dunn.
---
IN HIS OWN WORDS...
I am Chuck Henman. I have been playing drums for over 38 years now. I started as a professional at the age of 15 in Riverton, Wyoming playing with country bands. Eventually I was doing more top 40 gigs with groups from Denver, Colorado and started touring Colorado and the Midwest.
One of my most memorable gigs was when I was 16 and had the opportunity to play with the legendary "Thumbs" Carlisle through a recommendation from my dear friend Mr. Kerry Creasy, who was playing bass guitar with Thumbs at that time. Buzz Evans was playing Steel guitar with us too. This was really an eye opener for me, since I was a huge Billy Cobham fan, and sometimes played fills out of context … fusion and Country don't mix that well … So, Thumbs sat me down like a good Father would his own Son and explained to me what a real drummers role was … "Playing great time first and foremost with good taste of musicianship". This left a huge impression on me and although I did struggle a bit with this, I eventually learned to just groove and have a good time.
Throughout the years of traveling, and gigging with dozens of artists over the years, I have attained a great deal of skill in various styles. I have had the pleasure of recording with some of the finest players around, and have my own recording studio at home. I have also performed with various groups as an opening act for some of the industries best recording artists. I feel just as comfortable playing at Red Rocks or at a coffee shop. It is my greatest desire to use my talent as a "musician who plays the drums" and to play for the music first and foremost. It's all about the groove!
Peace and Blessings,
Chuck Henman
---
THE HISTORY of THE GROOVE MACHINE!

Chuck Henman started drumming at 5 years old listening to Beatle Records and beating on anything that sounded like a drum. At age 7, his Father gave him a snare drum for Christmas. It was understood that Chuck would learn his basics on the snare drum before his parents gave him a full set of drums at age 8. He continued practicing and listening to recordings of The Beatles, Blue Cheer, Vanilla Fudge, The Rolling Stones, James Brown, Herb Alpert, Pete Fountain and Buddy Rich. Eventually his influences became Drummers such as Billy Cobham, Tony Williams, David Garibaldi, John Bonham and Steve Gadd. At age 15 his Professional career began playing with Country and Top 40 Groups in Colorado and Wyoming. During High School, Chuck played in Jazz Band and Marching Band, his weekend gigs and the opportunity to perform with the legendary "Thumbs" Carlisle. For the next 2 years Chuck toured Colorado and the Midwest with various Top 40 Groups. In 1978, Chuck moved to Flagstaff Arizona and studied Classical Percussion, Big Band and Jazz Ensemble at Northern Arizona University. He then joined The Seattle Rhythm Band playing the styles of Latin Jazz, Brazilian, Reggae and Straight-Ahead Jazz.
In 1983 Chuck moved to Denver, Colorado and worked with several Top 40 Groups and performed/recorded with local Recording Artists, Vic Cionetti and Jill Sobule. In 1990 Chuck continued his studies in Advanced Jazz Techniques with Ronnie Bedford for 2 years. In 1992, Chuck moved to Anchorage, Alaska and enjoyed 12 years living there performing /recording with Long John Hunter, Smokey Wilson, Bruce Conte, Colleen Coadic, Medicine Dream, The Anchorage Civic Orchestra, Dennis Lind, Will Triplett, John Damberg. Recently Chuck has performed with the "Ragin' Cajun" Doug Kershaw and Award winning Smooth Jazz Artist Gabriel Mark Hasselbach. Chuck's style of drumming can be described as, Powerful, Dynamic, Emotional, Sensitive and ALWAYS in the Groove.
With over 38 years of professional experience, Chuck Henman is "The Groove Machine" dedicated to Smokin' Hot Drum Tracks for your Recordings!