Chuck Henman - The Groove Machine - Remote Session Drummer
"Chuck Henman is without a doubt one of the finest drummers in the United States, and he has played among some of the best artists. This man is fluent in almost any style. Chuck excels especially with Jazz Fusion and Rock styles. He can sight read or can play "Off the cuff" with ease. He played on two of Medicine Dream's recordings and performed live with our group for 7 years. (www.medicinedream.com). No matter how complex your project is, Chuck can deliver a top notch, professional performance. I highly recommend him."

Paul Pike, Leading Founder of Medicine Dream
HOW THE PROCESS WORKS:
Contact Chuck today and get your Groove on!
E-mail Chuck drums1c.henman@gmail.com.
If you send an email please include your telephone number!
Send me an .mp3 or a CD copy of your project. After listening to your track/s we'll discuss your songs, share ideas and come up with a plan for producing the best drum sounds and grooves you need.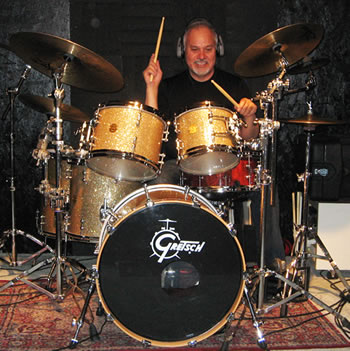 I will record the drums using various mic placements on individual tracks and send an .mp3 rough mix of the tracks to you for your input and approval. If you want a couple of takes to experiment with we'll work out a deal for that too!
Upon your approval the drum tracks, I will request payment via Pay Pal and transfer or send the Masters of all the audio files to you in the digital format you need.
I will upload (via "YouSendIt") or send (via U.S. Postal Service) the Audio Files to you.
CHARTS
I can read charts if available. If charts are not available, we can cover all the production on the phone, or via email. I am very flexible to work with. I want this musical interaction to be as enjoyable and perfect as possible.
Drum Loops...
Need some fresh, lowdown super-bad grooves - Chuck "The Groove Machine" can knock you out with grinding drum grooves and loops for your dance or rap music too!!
RATES:
Rates vary per project and you usually get the best deal for multiple songs. Every project is different so once we discuss everything I can quote you a price. I offer bulk rates for multiple songs and offer additional Percussion tracks at low prices too! I typically get my tracks recorded and mixed within 24 – 48 hours. I do request an initial deposit of 30% prior to recording.
TESTIMONIALS:
"It would be my pleasure to recommend Chuck "The Groove Machine" Henman. Chuck understands how important a pocket player is to studio professionals and their clients. This saves $$$$$. Bottom-line!! If you need drums on your tracks via internet or in the studio contact Chuck today! He's professional and performs all styles. No matter how difficult or simple your music is Chuck's the drummer to call to elevate your projects.
Don Ortiz, DEO Productions, Dina Preston Band
"....quite the vibrant percussionist......Mr. Henman's rhythmic pulse and captured professionalism is a plus for any group fortunate to have him on board....Chuck is an excellent studio musician and I look forward to including his expertise on some upcoming studio work....."
James Torres, Pianist, Composer, Director, Kimochi Music
"Chuck Henman is a super talented pro-drummer that can deliver world class tracks that will add fire and power to any recording. Chuck is especially well suited for jazz, funk, R&B, fusion, salsa and Latin influenced music but can lay down rock-solid tracks for any style. I've worked with world class drummers and put Chuck right up there with the best."
Daniel Clawson, Professional Musician, Firefall, Pure Prairie League
"Chuck is a first class drummer, able to play any style of music with great heart and perfection. We have worked on many different musical projects through the years and I can highly recommend him."
Kim Stone, 24 hour bass, Spyro Gyra, The Rippingtons
"The more music I create, the more I see it's about working with talented, focused people. People who are true artists in their own right. Someone you can point in the right direction and then get out of their way! Chuck is one of these artists. His turn around times are great and the sounds are warm and beautiful. A pleasure to work with."
Sincerely, Dennis Lind Beery, Artist/Producer) http://www.dennislind.com
"The thing I dig most about Chuck's musical abilities is how quickly he understands and finds the groove we're looking for ... then brings it all artistically to life in my modern jazz compositions and arrangements."
Joe Craig, Musician, Jacmuse
Get Smokin' Hot Remote Session Drum Tracks for your Recordings!
The Advantages of a Remote Session Drummer
Let's face it - if your song has a smokin' groove driving it people will listen! These days there's a lot of folks makin' big bucks who can't sing a note - but what makes their song sell is the groove! Chuck can add serious fire and groove to any recording - all at a very reasonable price. And what you get is a dedicated veteran and musical master that will make your music come alive! So get rid of that lame drum machine or half-baked drummer and get a master who will knock you out with his technique and grooveability!!! Funk, Rock, House, Jazz, Latin influences - he's been there - done that and he is a hidden treasure of talent you will become addicted to!
A Remote Session Drummer is a professional drummer who specializes in recording drum tracks for recording sessions from a remote location - in Chuck's case - from his home recording studio. Chuck can record his drum tracks without the extra hassle and expense of traveling, hotels costs, etc. Chuck has several top of the line drum sets in his studio that he can choose from. Chuck can take time to experiment and create his drum tracks at a time that is best suited to maximize his creativity. With 38 years of professional experience Chuck Henman - THE GROOVE MACHINE - has expertise, energy and excitement that can take your music recordings to the next level!